Objective:
The College of Engineering International Alliance seeks to bring together scholars from different parts of the world representing different engineering disciplines to study global challenge problems consistent with the strategic initiatives of the COE.
The goals will be met by pursuing the following initial objectives:

Create a select group of leading international partner Universities to promote collaborations in research and education.  While this will be an initial select list of leading universities with reputed Engineering programs;  it does not preclude individual faculty from pursuing collaborations with other institutions, in fact, it is highly encouraged.
Create a cohort group of International Scholars pursuing a PhD degree from the select group of partner Universities in 1).  In addition to pursuing a PhD, these scholars will be provided leadership training through several activities, and play a role in furthering collaborations with the partner Universities. Some of these students could be co-advised with faculty colleagues from partner Universities.
Promote the recruiting of the International Scholars by setting up a UG Research Internship program. 
Set up robust "Study Abroad Programs" for our UG students at these and other Universities.
Assign Faculty Ambassadors to work with colleagues at our partner Universities to advance collaborative research programs; specifically those aligned with the strategic initiatives of COE. Seek funding and resources to involve broader set of faculty members, and scale up collaborative activities.
Identify Corporate and Organizational partners who have an interest in international research and education, and an interest in the COEIA. 
To accomplish these aims, the Academy proposes the following structure and framework (See Figure 1):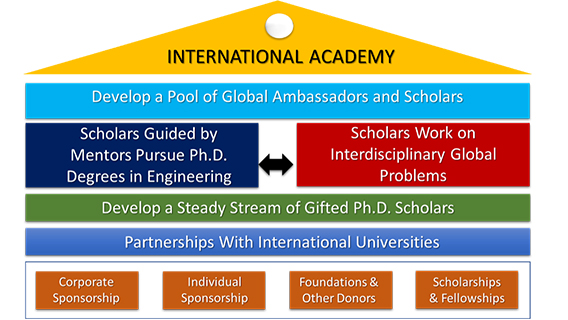 Funding of the Academy
The long-term goal is to attract donors who would fund the activities of the Academy including scholarships and fellowships for exceptionally gifted Ph.D. students.  The Academy will be funded by corporate sponsors, foundations and individuals.  Sponsors will be drawn from different parts of the world.  Initial seed funding for some of the programs will be used from COE discretionary funds.
Global Challenges
The overall research areas will be consistent with those of the College of Engineering, University of Miami.  Initial areas include the following strategic thrusts of COE:
Advanced Materials
Data Sciences and Engineering
Energy and Environment
Health Engineering
Space Sciences and Engineering
Sustainability and Resilience
Educational and Learning Innovation
Innovation and Entrepreneurship
Global Outreach and Impact
The International Alliance is expected to have a far-reaching impact across the globe in all populated continents of the world; and hence include partner Universities from therein.  An initial list of partner Universities is provided in Appendix I.
Organization Committees:

International Academy Steering Committee
Each of the countries of the partner universities will be assigned a Faculty Ambassador.  The goal of the faculty ambassador is to promote research and education collaborations, recruit high quality International Scholars, and expand the involvement of other faculty in collaborative educational and research activities with the partner institution. This group will also prepare Annual Reports to report activities and demonstrate effectiveness of the programs.
Coordinating and standing members of the International Academy Steering Committee include:
Vincent Omachonu (Intl Academy Director), James Tien and David Poole.
International Academy External Advisory Committee
A committee of external advisors will support the Dean and the Intl Academy Director; and help the Steering Committee on programming initiatives, developing partnerships with research universities in other countries, and garner funds to support the effort.  They could include members from our Corporate and Organizational sponsors.